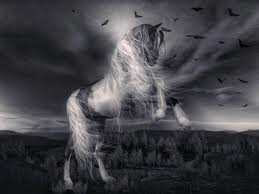 Believe
Unpacking the journey one stone at a time,
Letting go of the remnants of my deepest wants,
Losing it all.
Going forward toward what I know to be true,
Risking it all
Believing when no one else did.
Coming all undone, exposing the wounding,
the hurt, the malice the Shame,
Following the soul.
I am sorry
I could be nothing but this
Absolutely nothing but this
A wild horse needing to run free,
I gotta run
Though I love deeply
I gotta run
Feel the wind in my hair, the fire in my soul,
Wild and woolly
Free as an Eagle
Wild as my special horse Spirit
Because I believed I am free.
Lori